Veterinary Radiology Solutions: Advanced Imaging for Animal Healthcare with VJ X-Ray
Welcome to VJ X-Ray, your trusted partner in veterinary radiology solutions. With our state-of-the-art technology and expertise in high voltage generators and x-ray sources, we offer innovative imaging solutions to veterinary clinics and animal healthcare providers, enabling accurate diagnosis and enhanced patient care.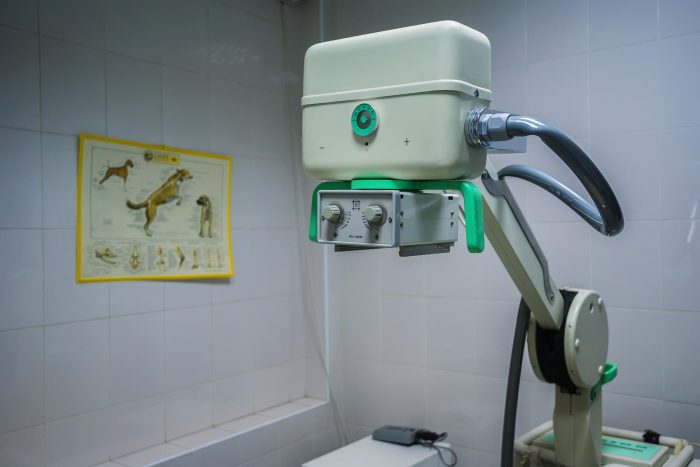 Our Veterinary Radiology Solutions:
Digital Radiography
Dental Radiography
Computed Tomography (CT)
Ultrasound Imaging
Training and Support
Digital Radiography
VJ X-Ray's veterinary radiology solutions include digital radiography systems, providing high-resolution images of animals' internal structures. Digital radiography offers numerous advantages over traditional film-based techniques, including faster image acquisition, enhanced image manipulation, and the ability to share images electronically for collaboration and consultations.
Dental Radiography
VJ X-Ray's veterinary radiology systems cater to dental imaging needs in veterinary practices. Our dental radiography solutions provide detailed images of animals' teeth and oral structures, aiding in the diagnosis and treatment of dental conditions, periodontal disease, and oral tumors. The enhanced visualization allows for precise dental procedures and improved oral health management.
Computed Tomography (CT)
Our veterinary radiology solutions encompass computed tomography (CT) systems designed specifically for animals. CT imaging provides detailed cross-sectional images, offering valuable insights into complex anatomical structures, organ function, and the detection of abnormalities. CT scans are especially useful for diagnosing conditions in the head, chest, and abdomen.
Ultrasound Imaging
VJ X-Ray's veterinary radiology solutions include ultrasound imaging systems for non-invasive evaluation of soft tissues and organs. Ultrasound is particularly beneficial for reproductive examinations, assessing cardiac function, and detecting abnormalities in the abdomen. It offers real-time imaging, allowing for dynamic evaluation during procedures and guiding minimally invasive interventions.
Training and Support
VJ X-Ray is committed to supporting veterinary professionals with comprehensive training and ongoing technical support. We offer training programs to ensure optimal utilization of our radiology systems and assist in the interpretation of imaging results. Our dedicated support team is readily available to address any queries or technical issues, ensuring a seamless imaging experience.
By partnering with VJ X-Ray for your veterinary radiology needs, you gain access to:
• Digital radiography for high-resolution imaging and efficient workflow
• Mobile imaging solutions for on-site imaging convenience
• Dental radiography systems for precise dental diagnosis and treatment
• Computed tomography for detailed anatomical evaluation and disease detection
• Ultrasound imaging for non-invasive assessment of soft tissues and organs
• Comprehensive training and ongoing technical support
GET IN TOUCH
Searching for an X-ray source, high voltage generator solution or need RMA support? Contact our sales & service team.
"*" indicates required fields